Sunday Mornings
This summer, worship service will be held each Sunday morning at 10:00 a.m.
In June, the services will be held in the Sanctuary.
In July, the services will be held in the Fellowship Hall.
In August, the services will be back in the Sanctuary.

Sunday School classes for all ages meet at 9:00 a.m. The adults will meet in the Sardis House.
Church nurseries for pre-school children (crib babies through five year olds) are provided during the worship service and Sunday School hour.
Find out more about our summer schedule here.
Recordings of worship services are available for purchase as follows:
Audio CD: $3
Video DVD: $5
To purchase a recording, email Danelle Bohman in the church office or call her at 704-366-1854.
Ushers, you may see your schedule online or sign up by clicking here: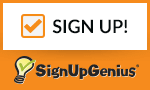 Urban Ministry Soup Kitchen
Help us serve lunch!
Spaghetti Sauce Sunday
Bring extra jars of sauce to donate ANY Sunday!