Sunday Mornings
Worship services are held each Sunday morning at 9:00 am and 11:00 am.
The 9:00 am service is popular with early risers as well as families with young children and those who prefer a more relaxed style of worship. Contemporary music is provided by the Celebration Singers and Band. This service is held in the Fellowship Hall.
The 11:00 am service is a traditional service utilizing the reformed Liturgy and led by the Sanctuary Choir and organ. This service is held in the Sanctuary.

Sunday School classes for all ages meet from 10:00 am – 10:45 am.
Church nurseries for pre-school children (crib babies through five year olds) are provided for both services and during the Sunday School hour.
Recordings of worship services are available for purchase as follows:
Audio CD: $3
Video DVD: $5
To purchase a recording, email Karen Haynes in the church office or call her at 704-366-1854.
Ushers, you may see your schedule online or sign up by clicking here: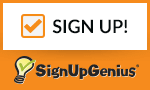 Give One Day (Community Service Sunday)
April 27, 2014
Noon- 2:00 p.m.
View event info
Farmer's Market
April 29, 2014
April 29, 11:15 a.m. -12:15 p.m.
View event info
Volunteer at Charlotte Family Housing
Sardis's first week of hosting at the new Elizabeth House, the permanent shelter for Charlotte Family Housing (formerly Family Promise) is May 11-15.
Urban Ministry Soup Kitchen
Help us serve lunch!