Become a part of this Christian community, learn what the call to be a Christian means in your life, explore your faith, and discover how to live as a disciple of Jesus the Christ. Our goal is to help you grow and mature as a follower of Jesus the Christ as we offer a variety of classes, groups, and opportunities for faith formation.
Adult Sunday School 10:00 a.m.
Join us on Sunday mornings this fall at 10:00 a.m. for Adult Sunday School classes! We have classes with different focuses and styles of learning and teaching. Contact Rev. Dr. Joe B. Martin if you'd like help determining which class is best for your interests.
Crossroads: Room 211 Crossroads is a lecture style Bible study class. Led by Jan Rosser, Chuck Bohlen, and Dave Archer, this class bases thier studies on the Books of the Bible. Contact Jan Rosser for more information.
Java: Room 216 Java is a Sunday School class for parents of tweens, teens, and young adults. This class combines fellowship, prayer, and study. Contact Lin Leslie for more information.
Salty Fish Fellowship: Room 210 & Zoom We are a community connected by our mutual sharing, support, fellowship, learning, and service. On Sunday morning, both in person and on Zoom, we use an open discussion format of resources selected by the leaders and shared with all. Current leaders are Anne and Ed Shoaf, Chick Byrd, Tom Bowling, and Clyde Preslar. All are welcome to join us. Contact Ed Shoaf for the Zoom information.
SPARK: Room 203 Sardis Parents All Raising Kids is a community group for parents of children 0yrs-5th grade that focus es on building community through sharing, prayer, fellowship, and mission. Contact Emily Oelz for more information.
Reading for Reformed Reflection: Room 214 Led by moderators, Dale LeCount and John Todd, and teachers, Alma Jo Langston, Susan Harmon, Mary Noble. This class will be reading and discussing some of the articles in the June 2023 issue of the Presbyterian Outlook, entitled Gun Violence: How people of faith can stop this uniquely American epidemic. Contact Dale LeCount or John Todd for Zoom information.
Discussing Bible Books & Topics: Room 108 This class often uses video-based curriculum to explore faith and Scripture. What we do is right in our name! For more information, contact Norm Schul.
Robert Pharr Class: Room 212 This class will meet in Room 212 for Bible study. We'll be following the mid-week Bible studies.
The Gathering Place outside the Fellowship Hall is always open for coffee and conversation for all who would like to gather there. Or if you'd prefer to study on your own, check out our Adult Library!
Mid-Week Bible Study
Creation to Covenant Led by Rev. Dr. Joe B Martin:
Beginning September 20 & 21 through November 15 & 16 we will explore the first half of the Book of Genesis. Why are there two different creation stories? Have you studied the Noah story since you were a kid? What do we do with all the Bible "heroes" doing so many things that are far from heroic? How does the first book of the Bible set up all the rest, including Revelation? Let's talk about it!
The same class will be offered on Wednesdays at 7:00 p.m. and Thursdays at 10:00 a.m. in Room 210 and on Zoom. Contact Rev. Dr. Joe B. Martin for Zoom links.
"Words With God" Led by Renda Brinson:
This Tuesday morning Exploring the Bible Class will begin a series, Words with God, on September 12. We will read, discuss and learn about the different words that we use to describe our beliefs. All are invited to this hybrid class We meet each Tuesday in room 210 at 10:00 a.m. Register with Renda Brinson.
Mustard Seed Groups – Small Group Ministry
Mustard Seed Groups are Sardis' small group ministry. People meet for fellowship, Bible study, service projects, and prayer. The groups are led by a trained leader. Each group chooses the topic of its study and the nature of its service or outreach projects. If you'd like more information on joining a Mustard Seed Group, contact Rev. Allysen Schaaf.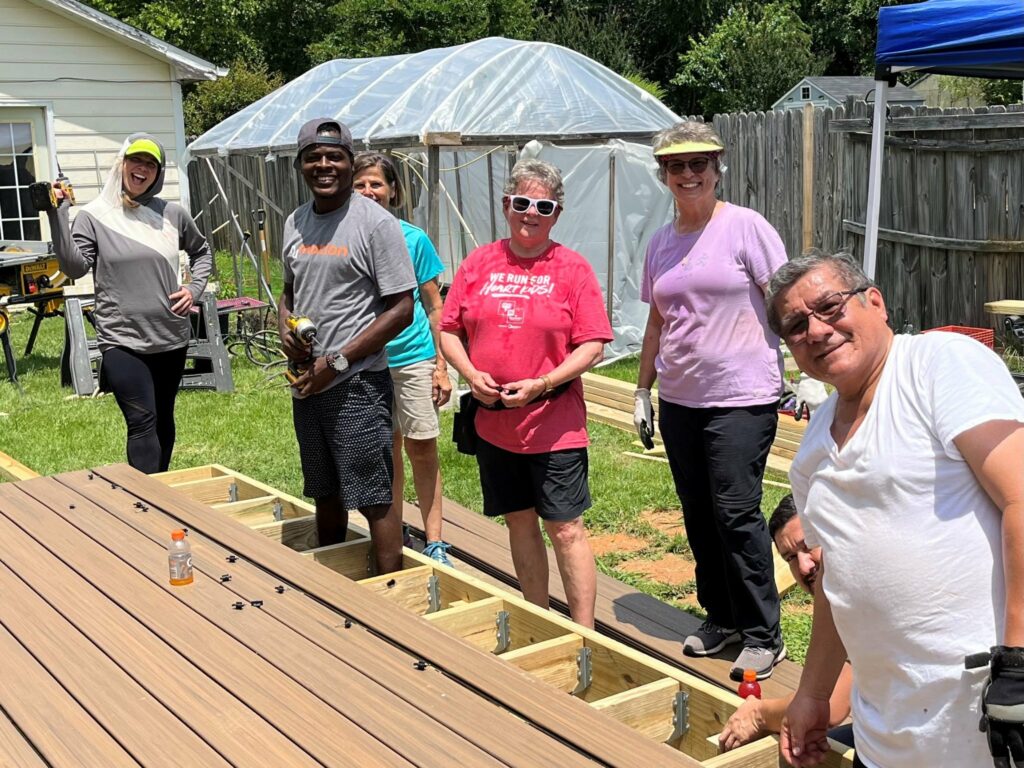 Women's Circles
Circles are designed for women to join together in Bible study, fellowship, and service. They encourage one another in shared experiences as women of faith.
Tuesday Morning Circle at Matthews Glen: Circle 3 will meet on the first Tuesday of each month at 10:00 a.m. in the Magnolia Chapel at Matthews Glen. We look forward to welcoming new members and visitors to our monthly meetings.  For more information on Circle 3, please contact Patsy Todd (980-262-4428).

Tuesday Morning Circle at Sardis: Circle 8 will meet the second Tuesday of the month at 10:00 a.m. in the Sardis Dining Room beginning on September 13. We hope you will join us! Contact Judy Schneider for more information.
Tuesday Afternoon Circle at Sardis: Women of all ages are invited to attend Circle 4 meetings the first Tuesday of each month at 1:30 – 3:30 p.m., in the Sardis Dining Room. Our meetings consist of a welcoming fellowship time, the sharing of joys and times of need, and mission projects. We hope you will plan to join these warm, spirited, Sardis friends! For more information, please contact Alma Jo Langston.
Young Adult Fellowship
Younger adults in their 20s and 30s meet monthly for fellowship and meals together. Our newly forming group is a mixture of ages and life stages. We have singles, some with significant others/married, some with kids and others who don't. Friends are always welcome! If you are interested in joining this growing group, contact Rev. Allysen Schaaf.